This week we will be learning the poem Windy Nights by Robert Louis Stevenson. Would you like to listen to it?  Here's the video:
This poem allows us to introduce the concept of metaphors.  I am looking forward to talking to my children about how we can use different words or nouns to describe a situation or a feeling. I think it will be fun watching my kids come up with their own examples and metaphors. We will read different books in which the authors have used metaphors.
At the bottom of this post, you will be able to download a few resources to help you memorize this poem. First of, you will find the poem on a sheet with illustrations.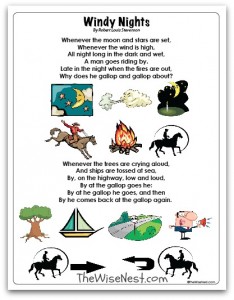 Next, you will find a sheet with just the illustrations and also coloring sheets.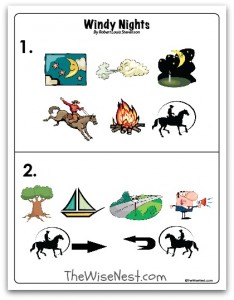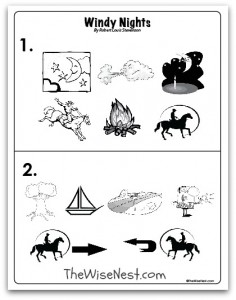 I included a set of picture cards that go with the poem. You can use these to give your child a more concrete, hands-on activity. Lay the cards on the floor or a table, and ask your child put them in order as she recites the poem. My kids enjoy doing this activity and I use it as independent work they need to complete while I work with the other child.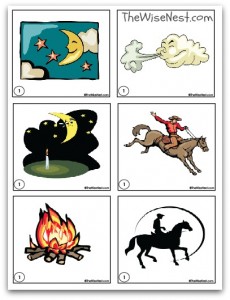 I did a search on YouTube for this poem, and found that it has been put to music for choir performances. There were some really wonderful choirs performing this poem. If you like using music as a way to memorize content, you may enjoy this video:
Have a wonderful week with you kids!
Click below to download the file for Windy Nights
—> Windy Nights <—