Use this worksheet as a way to introduce, teach and review some of the ocean zones.
Younger students can use it as a coloring sheet.
Older students can label each zone by either cutting and pasting the labels or by simply handwriting each name on the line.
Color each ocean zone in a different color to show the depth.
Here's the finished product done by one of my kids: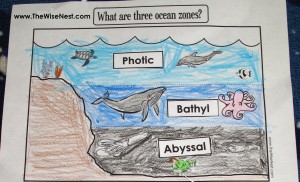 Click below to download the worksheet.