We have chosen the Dolch Sight Words List for our kids.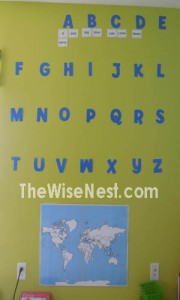 If you are not familiar with sight words, they are the most common words in the English language and a lot of them can not be sounded out phonetically.  Since these words cover a high percentage of any written material, it is very beneficial for your child to just memorize and recognize these words by just looking at them (hence the name sight words ).
We started learning sight words when the kids were in Kindergarten, so by now they know a huge number of words.  The way we do it in our home is to introduce a word a week. We pick a card, read it, talk about it, come up with sentences using that word (when they were younger I would write the sentences, now they can write them themselves), and then post it on our word wall.
The reason why I post them on the word wall is because I want the words displayed so when they are writing and need to know how to spell a certain word, then the word is up in front of them.  I realize not everybody has a wall to display the words, so I made a sheet for each level with the sight words, that way you can have them handy when your child is writing. 🙂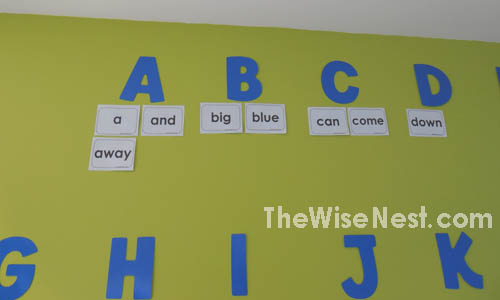 We keep our sight words in baseball card holders. We read them everyday. Sometimes I ask them to just open their binder and read the words on the baseball card holders, and other times I ask them to build a word "train".  They get the engine out and then line up the rest of the words. Next, they have to read all the words in their "train".  They enjoy seeing their train get longer and longer each week.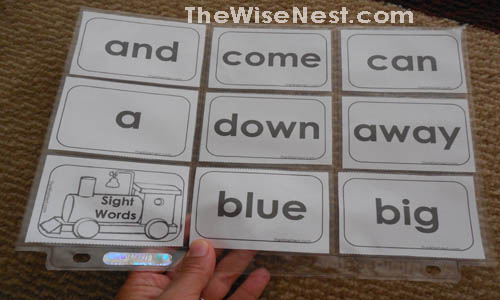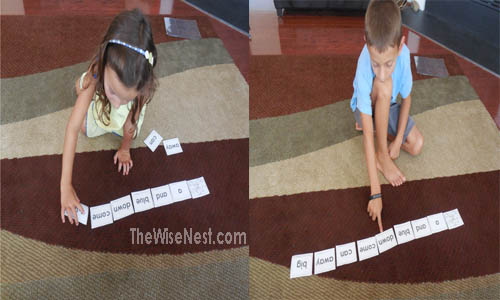 You can also use these cards as flash cards. Show the cards to your kids and ask them to read them as fast as possible. Setting up a timer might by a fun thing for some kids, they may enjoy seeing how many words they can read accurately in 60 seconds, or 2 minutes, etc.
I also found a wonderful app for the iPad and best of all… it is free!  The company is called alligartorapps.com.  If you just type sight words in your app store, it should be the first one to pop up.  But in case your search comes up different than mine, here is the picture.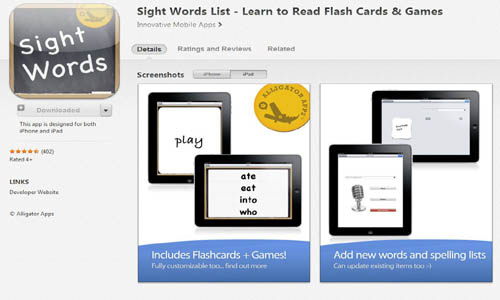 The great thing about this app, is that you can customize each level. There are enough levels to match the levels in the Dolch List.  The app allows you to put in your own words and also record your voice as you read it.  It has learning mode and game-quiz mode.  My kids love it and me too!  We can review the sight words as we go in the car, or if I need to read with one child, the other one can sit there and review their words independently.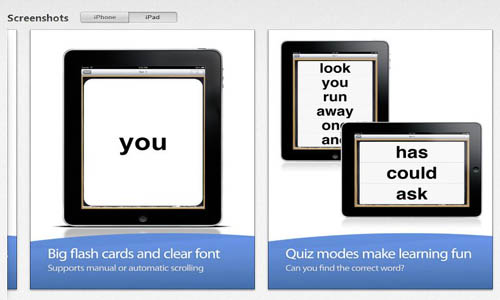 I have made cards for each level. The cards are formatted to fit baseball card holders. The levels are: Pre-Primer, Primer, First Grade, Second Grade and Third Grade.  The first two levels could be considered Pre-K and Kindergarten.
I hope this is helpful for you guys!
Click below to download the cards by grade level:
—> Pre-Primer Dolch Sight Word Cards<—
—>Primer Dolch Sight Word Cards <—
—> First Grade Dolch Sight Word Cards<—
—> Second Grade Dolch Sight Word Cards<—
—>Third Grade Dolch Sight Word Cards <—