This week we will be studying the words for Feelings in Spanish.
I have made some picture cards and a little worksheet to help the kids remember the vocabulary. We are planning on going through magazines and finding pictures of people showing different emotions. We will review our vocabulary by saying the words in Spanish.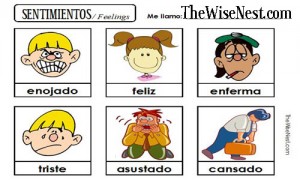 If you are wondering how to pronounce these words, then the answer is here! I have made a video showing you how to pronounce each word. Have your child repeat after each word is said. The video has a second part in which we invite the child to say the word before the video says the word.
Click below to download the cards and the worksheet.
—>Feelings Worksheet to Draw  <—

—> Feelings Cards  <—