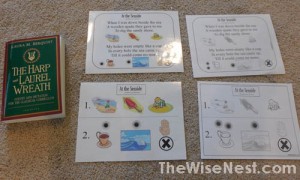 This year we have added Poetry to our school work. We will be memorizing different poems throughout the year.
We are using the book Harp and Laurel Wreath by Laura M. Berquist, and let me tell you that it is a wonderful book!  We are loving the poems! I love that it has poems for all the ages, young children all the way to high school age. So once you buy a book like this, you will be using it for years to come. 🙂
In order to help my children memorize the poems, I have put together some tools to facilitate the memorization. The first thing I will be doing is typing the poem on a sheet (or two depending on how long the poem is), and will be adding pictures to go with each  stanza.  The pictures will act as visual cues to help them recall the words in the poem.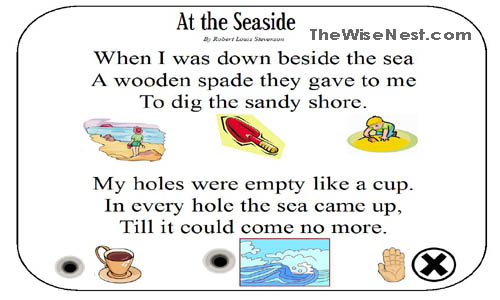 Once I see that they are getting close to memorizing the poem, I will introduce them to the second sheet, which is just the pictures. This way they can point to each picture as they are reciting the poem. The pictures will help them remember what's next in their poem.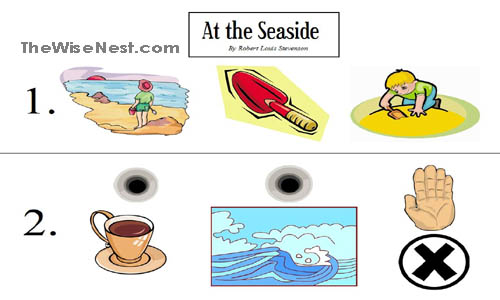 I also created coloring sheets to go with the poem. Some kids really enjoy coloring, and we can have the children color as we read the poem and talk about it.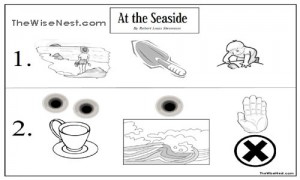 The last tool I have created is a video of the poem. I will have a video for each poem I post. This tool gives you an activity your child can do independently and will help him memorize the poem. I usually ask my children to watch it twice everyday. The first time to just listen to it, and the second time I encourage them to recite it with the video.
If you are not using poetry in your school day,  I encourage you to consider it. You will love listening to your children recite such beautiful poems, you will be exposing them to rich pieces of writing, they will learn to appreciate the rhythm in the poems, interpreting the author's purpose behind the writing, plus you can use poetry for so many activities (grammar lesson, vocabulary, spelling, etc.)
Here's a video explaining what I just described:
Stay tuned for the first couple of poems!