My Kindergarten class (in our co-op) has been working hard on learning the letter sounds and now we have moved on to learning some digraphs. I found a cute idea on Pinterest about the H Brothers, so I ran with it, modified it, and created my own materials. I had a lot of fun putting this together, and the kids LOVED it!
I made a short video about the H Brothers and their story. Want to watch it? Enjoy! 🙂
If you like to read better than watch, here is the written version of the story. There once was a family with five brothers. These brothers all had the letter H in their names. The funny thing about these brothers, is that they loved going around making sounds. They each had a particular sound they made, and the letters that make that sound can be found in their name.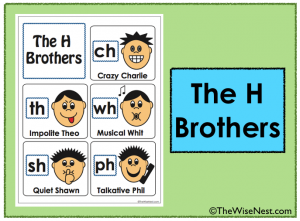 The first brother is Crazy Charlie. He is a little wild. He loves to walk around making a crazy sound and a crazy face to anybody around him. He shows his teeth and makes the sound: CH – CH – CH.

The second brother is Impolite Theo. He is a little rude. He likes to stick his tongue at people and make the sound: TH – TH – TH.

The third brother is Musical Whit. This boy really likes music. He wants to learn how to whistle, but has not had any luck yet. He keeps on trying, so he walks around blowing air trying to whistle, but the only sound that comes out is: WH – WH – WH.

The fourth brother is Quiet Shawn. This boy likes silence. He does not like noises or loud sounds. He walks around telling people to be quiet by putting his finger in front of his mouth and making the sound: SH – SH – SH.

The fifth brother is Talkative Phil. This brother loves to talk. He walks around with his hand to his ear pretending like it is a phone, and he makes the sound: PH – PH – PH.

This simple and silly story has helped my kids and my students to remember the sounds of the digraphs. Winner!!! I made a sheet for the kids to trace over each digraph and then color the faces. We have our sheets hanging in our school room and anytime my kids need a reminder, they can just look at the wall.
You can download the posters and the worksheets on the link below. I wanted to explain something about the digraphs. Depending on your child's age and development, it may be better to just introduce the first four digraphs (ch, sh, wh, th) and leave the fifth one (ph) for later. It could be a little confusing for a little one to learn that PH makes the same sound of letter F.  My kids were ready to learn that concept, so I went ahead and added it to the sheet. I also included a sheet with just the first four digraphs in case you decide your child is not ready for the fifth one.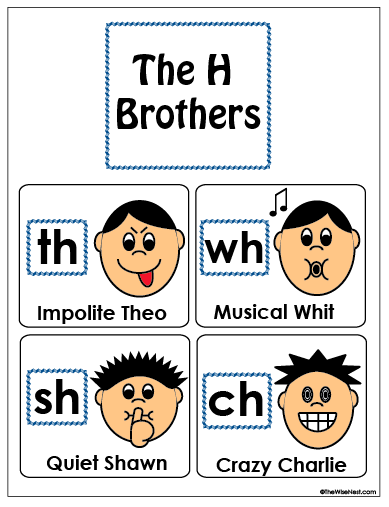 I would love to know if your child liked the story and if it helped him/her to remember these special sounds. Leave a comment for us! 🙂
Click below to download the file
—> The H Brothers <—
Have a wonderful week,